The Christmas festival is around the corner. We believe you might be considering a suitable Christmas rides for sale set in your fairground or amusement park. As one of the biggest carnival parties in Western culture, many people will consider entertain themselves with their family at the end of the year. It is a good time for both kids and adults to gain some pleasure.
What Christmas-themed rides we can offer to you?
In Dinis, we designed various rides for this important festival in western culture. For example, we have track or trackless Christmas kiddie train rides for sale and Christmas carousel horse for sale. They are both modelled after Christmas festival decorations and festival elements. If you are looking for a Christmas ride, we believe you could find suitable products in Dinis with reasonable price.
 Christmas carousel for sale
Christmas carousel in Dinis has classic golden and white color combination. On the cornice you can also find a ring of Christmas decoration balls and wreath. The Christmas carousel horse ride are made in Upper drive mode. So it has smaller noise than lower-drive ones. What's more, they are more luxurious. We use quality steel and FRP material for the build of carousel. The Christmas carousel has always been one of our most popular carousel rides all these days. You could see the railings and red rope also set on the carousel so that customers could lay their hands on it to avoid falling. In nights, the colorful lights accompany with the Christmas elements will present even better visual effects we believe. You could download Christmas songs in USB disks for kids' preference or songs adults love about. Our carousel could give customers great enjoyment of festival vibe from both visual and audio aspects. What a nice carousel choice for you to choose!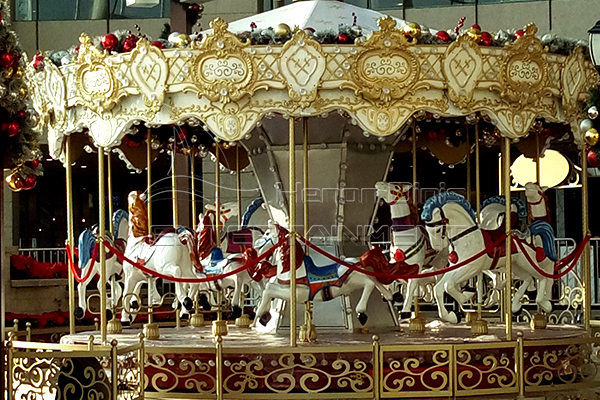 Christmas train rides
Besides Christmas carousel, we also developed track Christmas train rides. This kind of train has a Santa clause set on the locomotive pulling the rein of the sleigh that led by two reindeers. The train' body is painted in red and white color to assimilate with Santa clause's cloth. If you see closely, you could even find the melting snow image on the back of the cabin seat. Outside the train you could see some LED lights shining along. It is a hot sale Christmas train rides in Dinis. Since many kids love this design, it will no doubt help you collect more money accordingly. Besides, the Christmas rides don't just confine to this single design, we have various Christmas train rides with relative decorations. For more information, you could contact with us, our staff will supply you the PDF material for you to choose.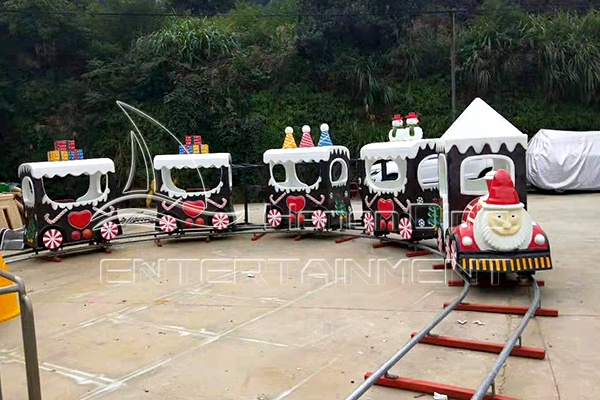 Christmas is one of the peak hours for amusement rides owner to cherish. Data shows that this is the last peak hour for amusement park owners to earn a great deal of money at the end of this year in Western culture. Don't hesitate to buy a Christmas ride in our company. Since we are on special, you could get preference in this period. Don't let the chance slip from your hands and stage the last chance in this Christmas. Hope you to be rolling in money!