Ride on train for adults is one of the most classic rides in Amusement park , resorts, residentials, fairground, theme park, zoo, shopping mall and plaza. In Dinis, we have train rides designed for children. Also, we have some designs targeted for adults. We aim to cover the more comprehensive needs from different group. We manage to carve a niche in domestic market. Besides, our products have been transported to every corner in the world.
Operation venues suitable for adults train ride
Resort-opt train ride
If you have ever paid attention to the rides in some resort, you might notice ride on train for adults' existence. On account of the long and exhaustive journey, many resorts choose to buy some train rides and set in their park. Some integrated resorts tend to extend thousands of kilometers. Visitors can't stand the whole journey will choose to resort to this transportation means. In the scenic and picturesque wonderland, visitors could breathe fresh air and feel the breeze at the train rides at the same time. The train rides could stop at any stop and connect the iconic views. It is an indispensable ride in resorts that liked by both kids and adults.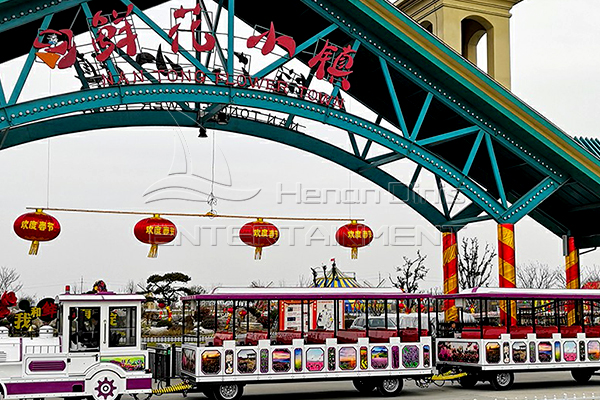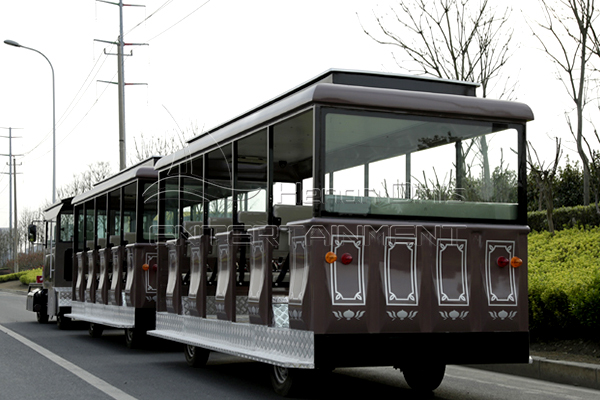 track train ride in resort
Track train ride may not be as portable as trackless one is. They are quite common in resorts. Resorts build the track through some green and capacious ground where the visitors could reach their hands to the leaves and make a close contact with the nature. It is widely accepted by both China and global clients.
Shopping mall adult train ride
As you can see in some big shopping mall and plaza, many train rides are working. They thread through the shopping mall with colorful lights shining and cheerful songs playing. This a type of train rides that are suitable for family ride. Many parents take their kids riding on it on weekends or after school. It is attractive for kids who come with their parents to shopping. Since the shopping mall train rides have a roof over their head, they don't need to consider the hot or cold weather's influence. Even in nights ,as long as the shopping mall is in operation, they could operate at the same time. This will extend your operation time and help you collect more money.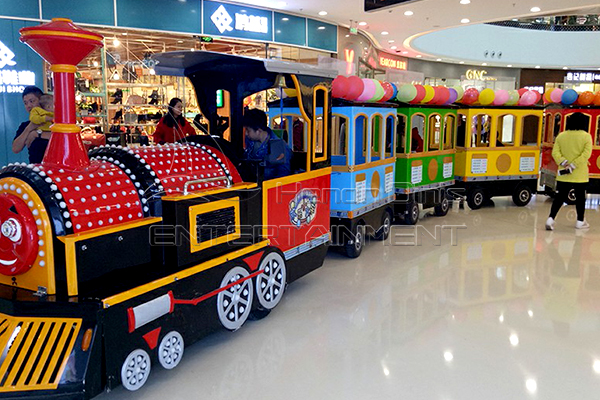 Occasion:indoor commercial amusement park, trampoline park, etc.
Material:high quality FRP+steel
capacity:20/24 seats
Locomotive Size:2.7*1.1*1.95 m
Cabin Size:L1.7* W1.1*1.95m
power:2-3 KW trackless train
voltage:60 V trackless train
Color:picture or Customized
Combo Set Offered:0
Type:trackless train
Zoo situated train ride
The train ride is suitable for zoo, too. Track trains are usually set around different animal zones that visitors can gain a close look at animals. At the same time save the energy to walk around. What a good idea it is to build a track train ride. The parents and their kids could enjoy the ride together. It is a good chance to share the family time in delightful way. Many kids and parents won't miss the chance to ride this train ride. Many zoos have bought one and it has become an extra revenue source.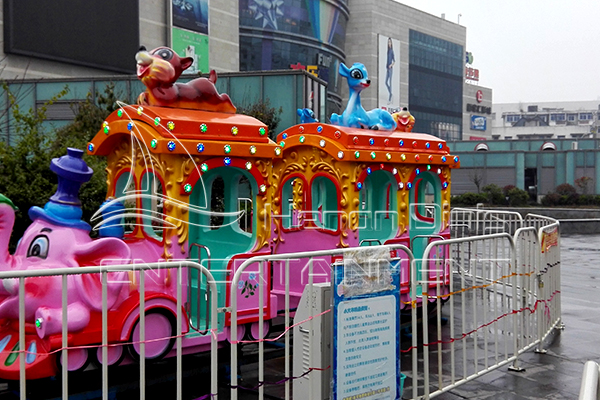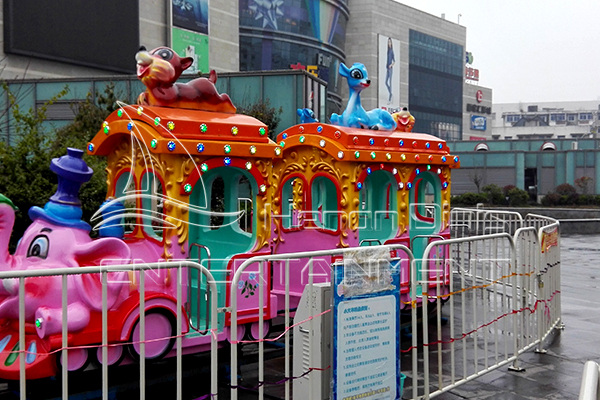 Occasion:shopping mall, resort hotel, residential, commercial, home
Material:FiberGlass, Steel, FRP, steel frame
Max Capacity:>500kg
Type:Indoor, Outdoor
Age group:3-12 years old
Cabin:4-5 Cabins
Seats:14-16 seats
Running speed:6-8 r/min
Running time:3-5 min adjustable
Power:1-5 KW
Voltage:220V/380V
Some adult train set model
Track steam trains for adults to ride for sale
The steam train ride for sale here is a kind of train that imitate some features of traditional steam train rides. The train has similar locomotive designs with steam train rides. They look elegant and quaint and will bring you great experience like you are in steam era. The chimney can let off simulated steam that is produced by smoke oil. It is an environmentally friendly material that is colored and tasteless.
This train is always fancied by lots of our clients. Many visitors are mesmerized by its ornate and demure vibe. This product is suitable for customers who is into selfies. Many consumers will update their pictures on the Internet. Especially when the train tread through the dense Sakura trees or dense trees the views are very attractive. The color of the train could be customized. For example, if you plan to set the train in Sakura park, we could paint it into pink so as to make it blend with the beautiful pink flowers. Let alone, many girls love this color, if properly advertised, this ride could attract many girls who love taking pictures. In this way, these pictures can be a public advertisement for you. And help you garner more money.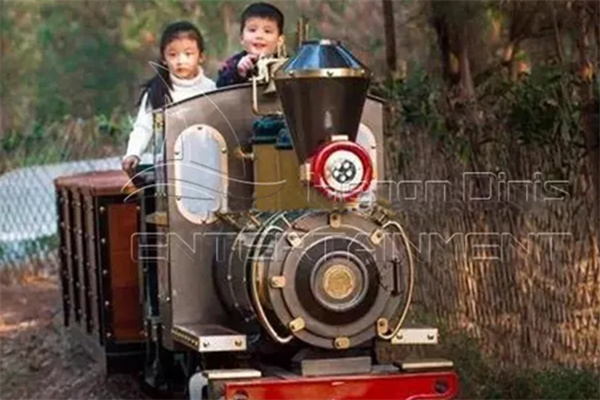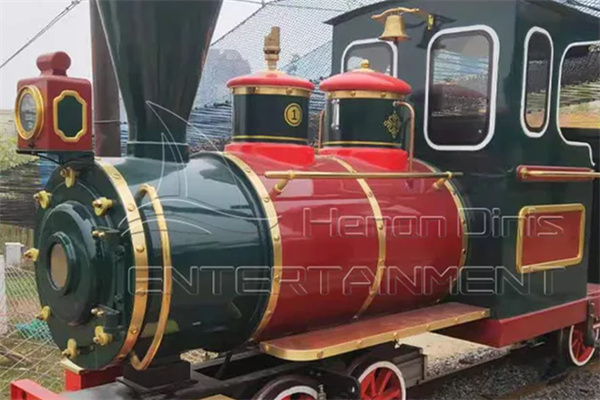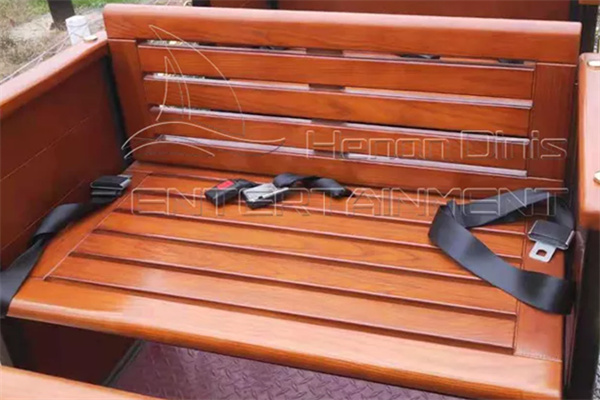 Full size adult train for sale
There are full size train ride in Dinis. The colorful train rides can carry adults' weight as well. One cabin could sit an adult and several kids. Adults can take the ridable train rides produced by Dinis to experience the happy ride with their kids. They can gain temporary childhood happiness and left their worries behind. This family ride could strengthen the family bond. And make the time parents spend with kids more valuable.
Why should you trust and choose Dinis' s products?
Professional design and research group
We boast 20+ years of experience in amusement ride manufacturing. If you have any special requirement, our engineer could customize for you. We aim to provide our customers most attentive service. Also,we believe that with the help of our past experience, you can get a most cost-effective investment plans and designs for you. We are committed to standing with customers and think for their benefits.
Quality train rides in wholesale price
Dinis has a large-scale production base of 20,000 square meters and a standardized production workshop of 18,000 square meters.
Dinis is in charge of the whole production, sale, and delivery process. Also, we use FRP material and high strength steel. Fiberglass-reinforced polymer is a strong, lightweight building material that resists corrosion. FRP is sometimes called composite because it's made of a combination of materials that work together for even stronger performance. Our products have competitive price comparing with other amusement ride suppliers. Yet we never compromise on quality and material.
Customizable items for ride on train for adults
Some customers might wish to have their train rides separated from other ones. Then you could choose to customize your train ride. So, you may be wondering which parts exactly can be customized?
Color of the train
The color of the train rides could be changed to your satisfaction. Also, the images on the train are adaptable at the same time. For example, if the train ride is to place in zoo. We could print the images of the animals that your zoo has to match with the theme of zoo to great extent.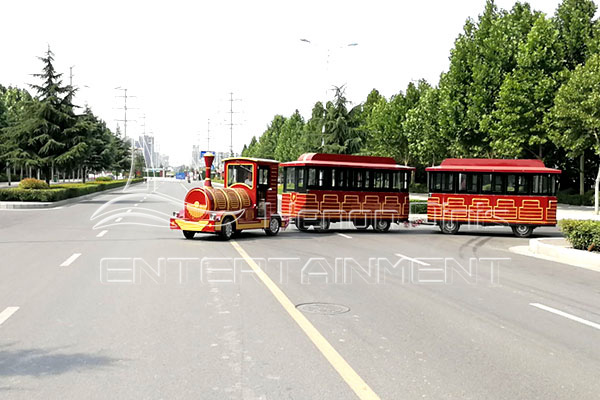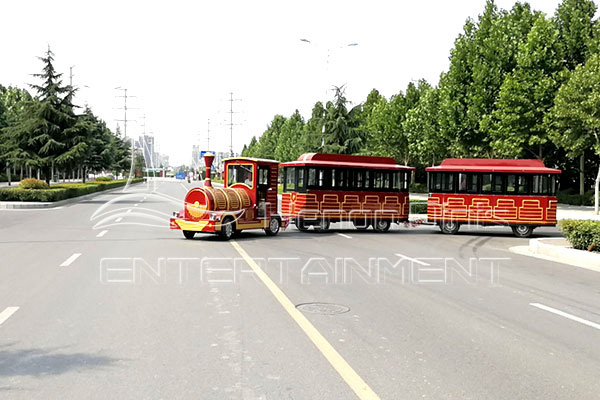 Occasion:shopping mall, resort hotel, residential, commercial, home, indoor commercial amusement park,etc.
Material:FiberGlass, Steel, FRP+steel
Max Capacity:>500kg
Type:Indoor, Outdoor
Allowable Passenger:>10
Capacity:15/20/40 persons
Cabin:2/3/4
Power:3kw/15kw
Speed:adjustable
Voltage:60v/96v
Seat material
If you have any requirements for seat in the train, we could adapt it for you.
Air-conditioner
Some customers who are in need of air-conditioners, we could set in the cabins. So that customers can enjoy better ride even in hot summer days or cold winter days.
Brand name
In some theme park, there are clients who wish to have their brand name printed on the outside of the train. It is a good way to make your train ride more targeted so as to impress customers come to your park. This is a good idea to make your ride special.
In this passage ,we talked about the good operation venues suitable for adults train ride. Some adult train set model in Dinis. Why should you trust and choose Dinis' s products? And customizable items for ride on train for adults. Hope you find it useful to you. If you have any other questions, please feel free to send inquiries to us. We are more than happy to help you with it. Our staffs will give you quick response and detailed quote information to you. We are looking forward to maintain a good cooperation with you. Win-win results are our final goals. So don't hesitate to contact us.