Kids account for most of our customers. We have different carnival carousels for kids in our company for you to choose. Here are some of our best sellers in 2022.
ocean-themed carnival carousel for kids for sale
Animal fun merry go round is a carousel horse inspired by cute animals. This carousel is painted in blue color with cute sea stars and dolphins mounted on the cornice. The most unique point is that its horses are changed into sea animals. It range from shrimps, fish, sea horses and seals  dolphins and various sea creatures. Since children are curious to different designs and hold affection for cute animals, we believe this carousel could attract lots of kids.
It is suitable to set one into zoo or aquarium. These days, insightful parents pay much attention to kids' well-rounded development. They tend to take their kids to zoo or aquarium for related knowledge. Under the similar theme of sea creatures, we believe ocean-themed merry go round could cater to your needs. The supporting carousel facility could be your individualistic selling point.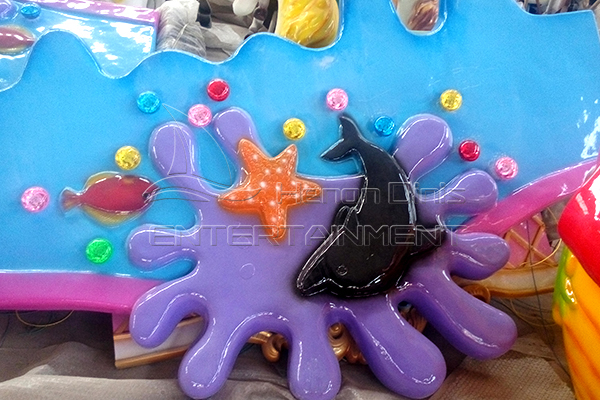 Cartoon character carnival merry go round for sale
Kids feel interested in cartoon characters. To satisfy their needs for it, we have cartoon carousel for sale. You could choose which cartoon characters you wish to have it on your merry go round horse. We would design it for you. For example, we could customize the pictures on the cornice, center pillar, ceilings on your demands. We design our new cartoon carousel  in pink color overall. The horses on it modelled after cute cartoon images. For example, cattle, swans, squirrels, lions and so on. These animals are bright and happy. We think it could help you gain affection from kids.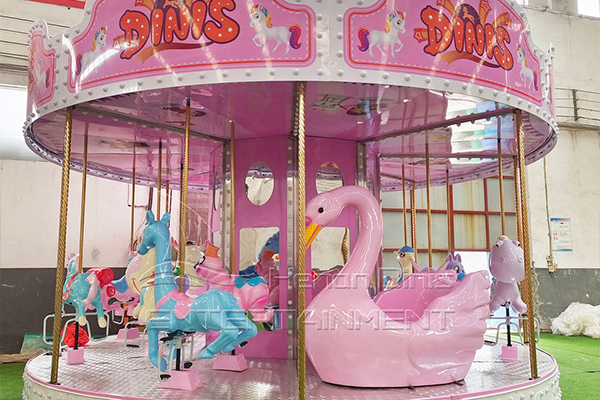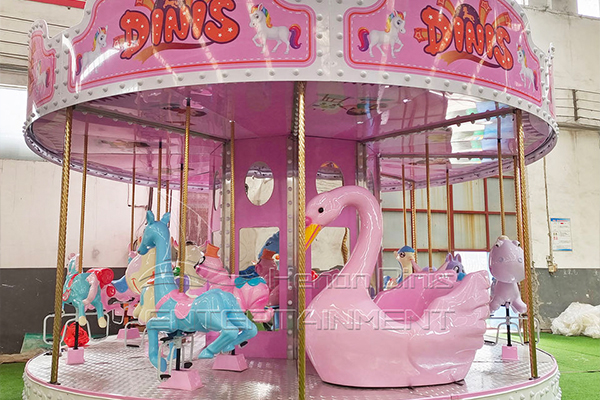 Coin-opt carousel rides could be used in multiples places. Due to its small footprint ,it is easy to move around. So if you are a amusement owners who need to drag your carousel to different places. It could be your good choice.
We have different designs for con-opt kiddie carousel. European small carousel, sea-themed carousel, vintage carousel rides are available. If you feel interested in any of our rides, we could customize it for small 3/6 seat carousel horse. Some of the small carousel have small carriages. When you wish to have carriages on your small carousel, we could change one horse into a carriages for you. We will try our best to satisfy your needs.
Every coin-opt carousel has colorful lights on it. In nights, they could give out beautiful lights to the accompaniment of music. You could download needed music in sd card for your needs. We suggest you download some cartoon movies or anime music. Children are big fan of them. As long as kids hear the sound of it, even from afar, the music could grasp their attention tightly.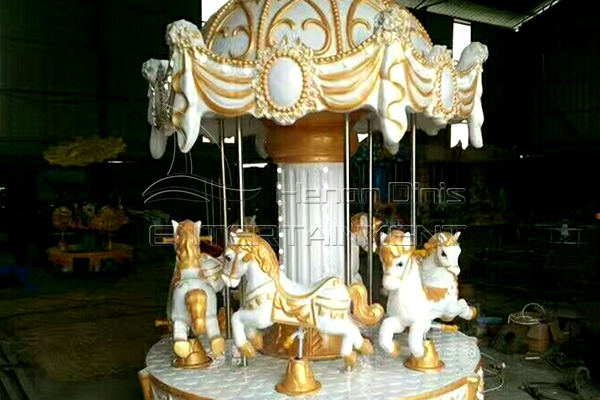 The aforementioned several types of merry  go round rides are several examples of our proud kiddie horse rides. We have lots of attractive designs for our carnival carousel for kids in our company. If you feel interested in us, please send us inquiries. Our staff will send you relative products PDF material for your inference.