Flying chair fun ride is one of the most classic carnival fun rides in amusement park and theme park in China and international market. It differentiates itself from other amusement rides in its unique thrilling riding experience. As a thrilling amusement ride, the visitors can get euphoria experience that people rarely taste in daily life, which makes adventurous people highly excited to ride.
Why do people wish to ride flying chair fun ride?
Unparalleled experience
The amusement ride incorporate 15 types entertainment facility categories. It range from merry-go-round type of rides, coaster type of rides,space-gyro type of rides,fly-tower type of rides,racing car type of rides, astro fighter type of rides, wonder wheel type of rides, fairy train type of rides, monorail type of rides, shooting gallery type of rides, water amusement equipments, bumper car type of rides, battery car type of rides, to other type of amusement devices.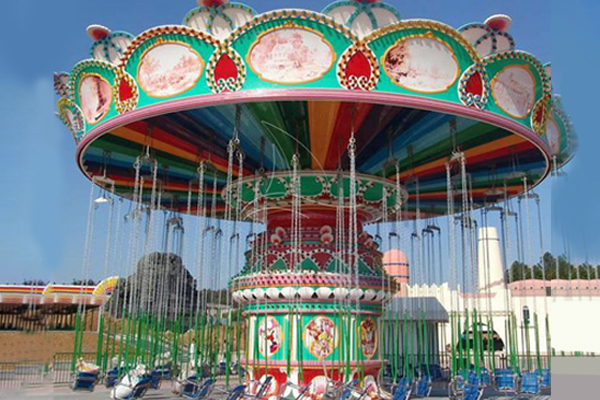 Material:
Steel, FiberGlass, FRP+steel
Allowable Passenger:>10
Type:Outdoor
Max Capacity:100-500kg
Capacity:36 people
Area size:14.6m Diameter
Equipment Height:6.2m
Power:13.5kw
Running Height:3m
Rotation diameter:8.56m
Usage:Amesement Park
Certificate:CE Certificate
The flying chair falls into categories of thrilling ride because it operate in high speed on the basis of the centrifugal force. The flying chair is a amusement facility that combine rotate, shake as well as elevate at the same time. When these three different forces are in function at the same time, customers can get most thrilling experience. For people who are big fan of adventure, it is an unparalleled enjoyment and a ride to experience adrenaline rush.
Curiosity
Apparently, people have long been craving for flying high in the sky. People's curiosity for flying has never stopped. We believe no matter kids or adults, couples, or adolescent, all of us have an expectation to ride high in the sky, maybe for different reasons. Yet without doubt some of our concerns and worries might get mitigated and swept by functioning of the adrenaline. This is what an amusement rides do and made for. Flying chair's role can't be neglected in this regard.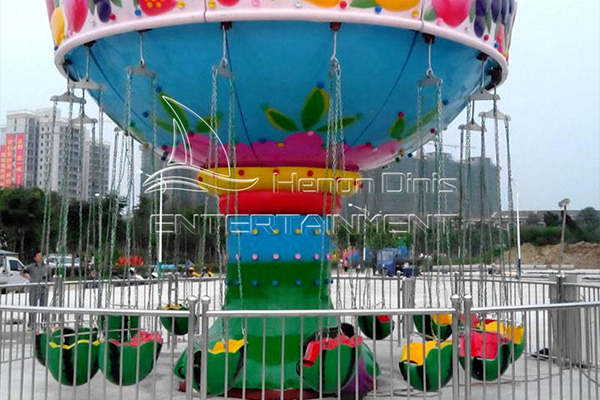 Material:Steel, FiberGlass, FRP+steel
Allowable Passenger:>10
Type:Indoor, Outdoor, flying chair
Max Capacity:>500kg
Capacity:12/16/24/36 seats
Diameter:5/6/8/10m
Height:4.5/4.5/8/10m
Speed:8-10circles/min
Voltage:380V
Power:7/7/10/10kw
Today, we see why the flying chair is becoming more and more popular these days and why do people love about them. These also are the reasons why we believe you should own one in your amusement park. We have flying chair rides in different specification targeted for different age group suitable for various operation situation. Don' hesitate to send inquiries to us and see more information!