Since the Christmas festival is coming, we would like to share you a deal we made with an English customer who is in need of a Christmas carousel and roller coaster. For your reference, the Christmas ride cooperation with an English customer is one of our most successful case. So we decide to share this process with you. Hope you find it useful and gain a better insight from it.
The pre-sale negotiation stage
First, the customer contacted us and claimed for a Christmas-themed carousel and roller coaster. They are planning to built a amusement park in Christmas ride . And hope to have the products arrived by the end of September or the beginning of the October.
The customer preferred the carousel to have Christmas elements like snowman, reindeer Santa Clause printed on the carousel. And they want the roller coaster's carriages could be replaced into Santa sleighs. They wish we use galvanized steel for the consideration of antirust. They requested the track of the roller coaster could be painted in blue.
Our solution for their needs
On the basis of their demands, we inform them that some details that we could realize and some we might need to make some adjustments.
We could print the requested pictures on the carousel as long as the pictures are sent to us, HD version would be best. Also, we change the color combination to your satisfaction accordingly. The horse replacement could be realized yet as we don't have penguin model so they will have to surcharge for the remodeling. To help our customer reduce some unnecessary costs. We sent them some other carousel horse figures that we already have in hope of they could find other preferred images. About the raw material we used, we didn't choose the galvanized steel given that steel has better performance in strength since we have made some measures in antirust. The paint we used is antirust. Our production formula has endured decades of test. So we will not misled you into making some unnecessary costs and adjustment.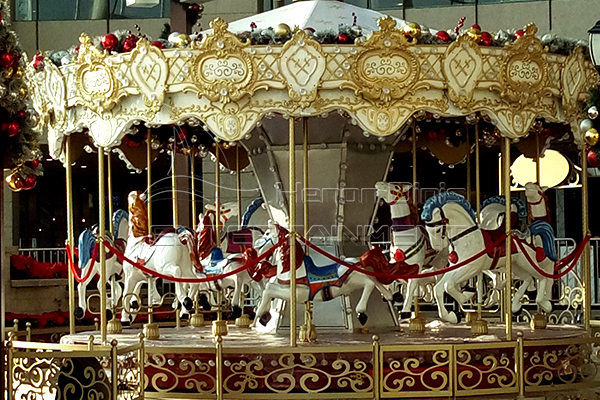 Quote and certificate
Our customer worried about whether our products could fit into England's inspection and regulations. Don't worry about that. We have CE certificates that work for most of the country. In our past transaction history, we have nailed deals with European clients before. We believe it could help they sweep their qualms. The quote include the track and roller coaster , the carousel ride on the basis of their operation venue size and specification, shipment fee. FYI, some customers who need engineer to help with the assembly. They will have to pay for the costs of their airplane tickets, board and lodging. Yet we think it is uncalled for, because we will send them detailed assembly process and guides. They themselves could do and it helps to save some money.
The last stage
After all the details are determined. Customers are expected to pay the deposit and sent us the bank slip. Then we sent them stamped invoice with signature and arrange the production of the Christmas ride . We tried our best to deliver the goods before the October. And the whole process is quite smooth.
This is one of our deals with an English customer. In the production process we intermittently updated and sent their products' production pictures to them. At last, they are quite satisfied with our quality and credit. We are happy to maintain the extend cooperation with our customers.