Fiberglass carousel horse for sale is the most common rides amidst long development of entertainment facilities. It has displayed unprecedented strength in various entertainment facilities. Our company has produced fiberglass carousels for 20+ years. We have accumulate lots of experience all these years.
 Hot sale fiberglass carousel horse for sale in 2022
Our vintage carousel facilities have endured years of examination. It has lots of fans because its classic and elegant style. We are expert in producing beautiful vintage carousels.For more information,you could visit our website or send inquiries to our staff.They will send you pdf material and offer you quote.
For our designs,we have complex western mural pictures imprinted on the center pillar. The color of it is quaint brown and dark green. The galloping horses on it is in vintage style at the same time. There are some beautiful flowers and pattern on it. The whole carousel looks like ancient items that have past many years. If you are into this style,please take consider of it.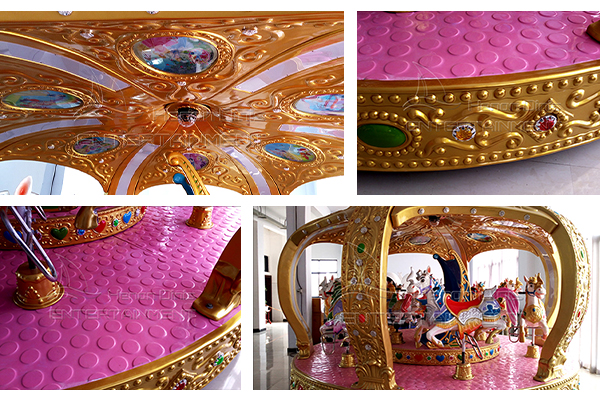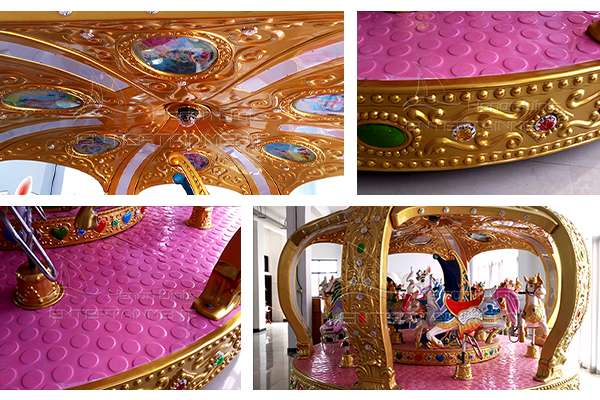 Name:

Royal Crown Carousel

Function:

Rotating and lifting with sweet music

Operation:

Remote controll

Suitable age:

3-12 years old

New amusement carousel:

carousel horse

Mini merry go round for sale:

mini merry go round carousel

children game machine:

inflatable christmas carousel

6seats carousel:

amusement carousel ride

mini carousel:

candle holder carousel

Capacity:

6 Persons

Type:

Carousel
We have various different designs for vintage carousel rides with different color combination and pictures on them.They are designed in western antique style, so they can gain popularity from similar culture background we believe.
As a upper drive fiberglass carousel horse for sale, they have relatively reasonable price. It is suitable for both indoor and outdoor use. We believe it could be a good company for you to attract kids and adults to come.
Small merry go round is one of the most popular one in our company. Since it is easy to disassemble and assemble,it is favored by clients that need to move their fiberglass carousel horse for sale from place to place. They are at around 2.6m /2.8m in height. We supply 3/6 seats small carousel for sale.
Also, we have different specifications for you to choose from. For example, you could change one horse into small carriages that even toddlers could sit. We accept customization, if you have any different arrangements, please feel free to communicate with us.
Besides, we have various of theme  and color for you to choose. If you are planning to have one for you kids. And they have preference for certain color. Don't worry, we could change it to your satisfaction.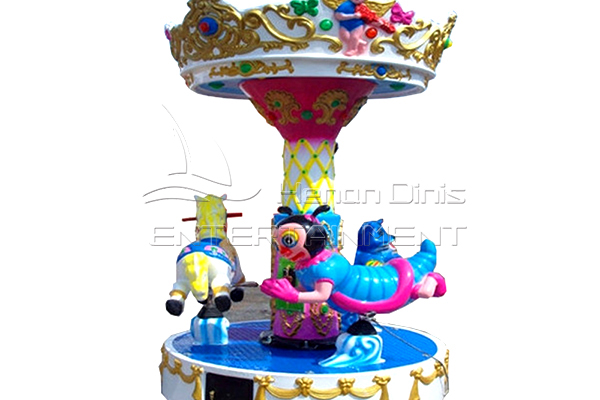 Inflatable:

NO

Occasion:

indoor commercial amusement park, adventure park, shopping mall, outdoor public playground, resort place, city park, kindergarten, home kids zone, garden, commercial, public, Theme Park, Amusement Park

Material:

Metal, FRP+steel

Max Capacity:

100-500kg

Type:

Indoor, Outdoor, Carousel

Allowable Passenger:

<5

Product name:

kids carousel for sale

Certificate:

CE Certificate

Usage:

Theme Park,indoor, Amusement park

Color:

Customized

Size:

5.5-8m diameter

Warranty:

12 Months

Voltage:

380V

Capacity:

Customized

Power:

3KW-6KW


Musical fiberglass carousel horse for sale
Musical carousel horse rides can play melodious songs to the company of carousel's operation,creating romantic or happy atmosphere in your amusement park or fairground. You could download music that you are into in sd cards and control its play.
The colorful lights on the merry go round rides is beautiful at night. When delightful music plays along, customers will feel like positioning in fairy tale. We believe it is a romantic scene that could provoke your fantasy towards amusement park. No matter kids or adults will find it hard to resist its charm. It is suitable for different venues.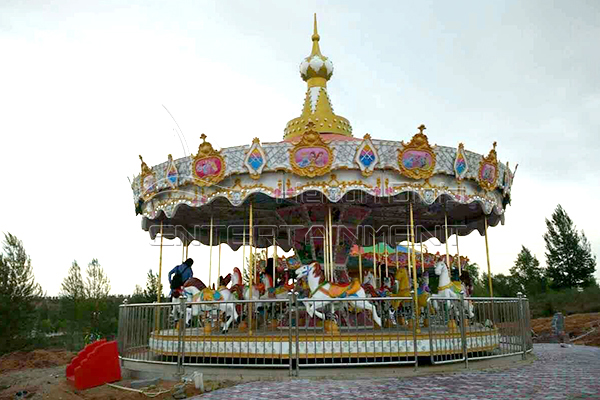 Inflatable:NO
Occasion:home, resort hotel, School, commercial, shopping mall, residential
Material:Metal, FRP+steel
Max Capacity:100-500kg, >500kg
Type:Indoor, Outdoor
Allowable Passenger:5-10, >10
Color:Customized
Capacity:16P
Voltage:220V/380V
Power:3.5KW
Diameter:7m
Height:5.5m
Payment terms:T/T 30% Deposit
Warranty:12 Months
Product name:children park musical carousel rides


Ocean themed fiberglass carousel ride for sale
Ocean themed merry go round is one of our best sellers. We have various designs for ocean themed merry go round rides. The main differences are mainly exemplified by the cornice decorations, chasis. The ocean-themed carousel features in blue color and white that monitor the sea and waves.
The price of ocean-themed carousels are determined by working principles, specifications of carousel and how luxurious they are. Down-drive fiberglass carousels for sale are cheaper than upper-drive carousels. If you are a small amusement rides owner, you could have our 3-6 seat ocean-themed carousels. It will save you some money at the same time.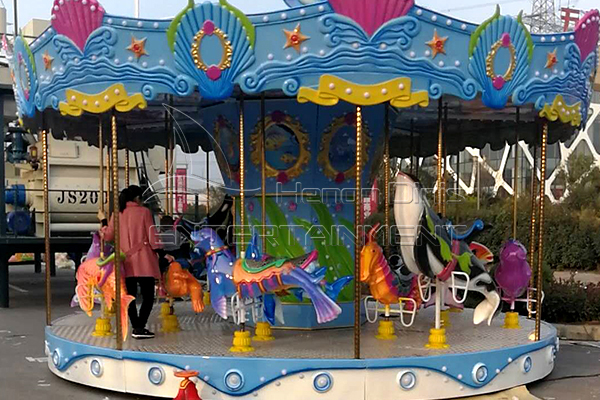 Inflatable:

NO

Occasion:

home, resort hotel, School, commercial, shopping mall, residential

Material:

Metal, FRP+steel

Max Capacity:

100-500kg, >500kg

Type:

Indoor, Outdoor

Allowable Passenger:

5-10, >10

Color:

Customized

Capacity:

16P

Voltage:

220V/380V

Power:

3.5KW

Diameter:

7m

Height:

5.5m

Payment terms:

T/T 30% Deposit

Warranty:

12 Months

Product name:

children park ocean  carousel rides


 Portable merry go round fiberglass carousel for sale
For the group of people who need to move here and there, we introduce portable carousel horse for you. They are also called as mobile carousel rides, which is suitable for those who position their rides in fair, mall. In these venues where amusement rides owner might need to follow the fair and or festivals' whereabouts.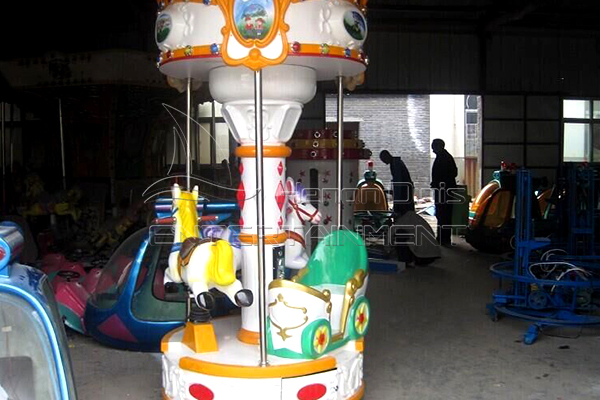 Inflatable:

NO

Occasion:

home, resort hotel, School, commercial, shopping mall, residential

Material:

Metal, FRP+steel

Max Capacity:

100-500kg, >500kg

Type:

Indoor, Outdoor

Allowable Passenger:

5-10, >10

Color:

Customized

Capacity:

16P

Voltage:

220V/380V

Power:

3.5KW

Diameter:

7m

Height:

5.5m

Payment terms:

T/T 30% Deposit

Warranty:

12 Months


 Why do we use Fiberglass for our amusement rides?
Fiberglass makers have been producing the wispy material commercially since the 1930s, when it started gaining ground as a thermal insulation material for buildings. Much has changed since that time, as manufacturers have learned to tweak the glass fibers' composition to impart properties that better suit one application or another.
Environmentally friendly features
It is a kind of material that bears no harm to environment.FRP carousel rides are non-toxic and tasteless. So customers needn't to worry about whether it can do any harm to your kids'health.
Good corrosion resistance
FRP material has good performance in corrosion resistance. Accordingly, it can do good in outdoor operation. For carousel owners who need set their rides in open air, it can help you save  lots of energy to maintain. FRP material has undergone years of examination. So it can endure different weather conditions.
 Good flexibility
FRP material is flexible, which makes the different beautiful designs possible to shape. In this regard, we could offer our clients diverse designs for carousel horses and luxurious decorations so as to satisfy our customers' needs.
 Why do you choose Dinis's fiberglass carousel horse for sale?
We are professional manufacturer in amusement rides production and own a large factory that locate in Henan province. We have agile supply chain, centralized Procurement , raw-material traceability identification, finished product inspection service. 20 years' production experience has given us mature experience along the whole production chain. These years we have clinched deals with lots of overseas customers. We aim to maintain extended relationship with our customers. You could see some pictures in our website. Those pictures  contain our cooperation with clients that come to visit our factory. Also, we have make an cooperation with famous watch brand, Longines. They order a set of carousel rides with their brand name on it.
In this passage, we have discussed Dinis's five hot sale fiberglass carousel horse for sale in 2022. The reason why  do we use Fiberglass for our amusement rides? And why you should consider our products. Hope you could find this passage useful. If you have any questions, please feel free to contact us and send inquiries. We will respond you as long as we receive your information. Please remember to supply your venue parameter or needed size, we will offer you quote accordingly.
What is our requirement for FRP material products?
The scientific name of FRP is glass fiber reinforced plastic. It is a composite material that uses glass fiber and its products (glass cloth, tape, felt, yarn, etc.) as a reinforcing material and synthetic resin as a matrix material. The advantages of FRP are: light yet hard in strength, non-conductive, stable performance, high mechanical strength, less recycling, and corrosion resistance. So what requirements should manufacturers meet when applying FRP products?
The surface of FRP should be smooth without cracks, and the color tone should be uniform.
Defects such as poor impregnation, poor curing, air bubbles, delamination of the cutting surface, and uneven thickness are not allowed.
Defects such as cracks, breakage, obvious repair marks, exposed cloth patterns, wrinkles, unevenness, inconsistent color tones are not allowed on the surface, and the transition at the corners must be smooth and free of burrs.
There should be sufficient strength when the FRP parts are directly connected with the force-bearing parts, otherwise the manufacturers should pre-embed the metal parts.
The mechanical properties of FRP parts should meet the requirements.
FRP material amusement rides have cover most share of market. It is a great improvement from past wooden horse rides. Now amusement rides producer can use the FRP material model into figures in different shapes to surprise the customers. It is environmentally friendly and corrosion-resisted.
Although many amusement rides manufacturer are using FRP material to produce the amusement rides. The crafts and experience might vary from one to another. Dinis has decades of amusement rides production experience. And we have a large factory including different workshop. The FRP polishing workshop is also equipped with environment protection machine. Our staff will polish the FRP models with hands after they get processed by machine. In this way, our FRP products are smooth.