Antique amusement rides for sale are a fascinating aspect of amusement park history, reflecting the evolution of entertainment and technology over the years. These rides often have a nostalgic charm and unique design that sets them apart from modern attractions. Actually, some surviving antique amusement rides have been preserved and restored for display in museums or amusement parks, while others may have been lost to time. In this case, if you want to buy vintage amusement rides for sale, where can you find them? Don't worry. Nowadays, "antique" means a style of amusement attraction. And many amusement ride manufacturers have designed and produced many antique amusement rides for sale to cater to the public.
Among the many amusement equipment, antique train ride, antique carousel, antique Ferris wheel and antique bumper car are four of the most popular antique amusement rides because of their long history and accessibility to people of all ages. In people's minds, the four classic theme park rides can evoke their memory. Therefore, if you want to start a park or carnival business, the four antique rides are indispensable. Here are details on the four antique amusement park rides for sale for your reference.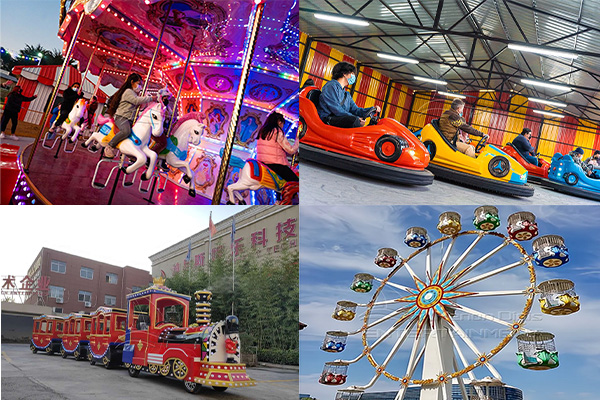 Top 4 Hot Sale Antique Amusement Rides in Dinis
Antique Ferris wheel for sale — Iconic building in your city
The Ferris Wheel, invented by George Washington Gale Ferris Jr. for the 1893 Chicago World's Columbian Exposition, is an iconic amusement ride. Early vintage Ferris wheel was made of wood and steel. While a modern Ferris wheel for sale really adopts steel, glass fiber reinforced plastics, aluminum alloy and other materials, making the carnival Ferris wheel more stable and durable. For people, the slow, circular motion of the Ferris wheel provides them with a gentle and often calming experience, allowing riders to take in the scenery and enjoy the ride with friends or family. Besides, due to the height, a Ferris wheel really means an iconic structure in amusement parks, fairgrounds, and other entertainment venues. It is symbolic of leisure and recreation, contributing to the overall atmosphere of celebration and festivity in the places.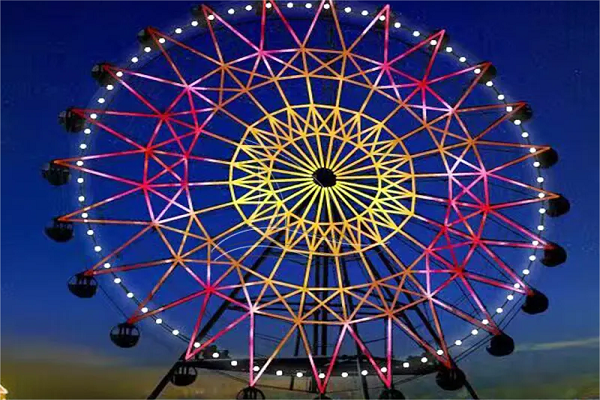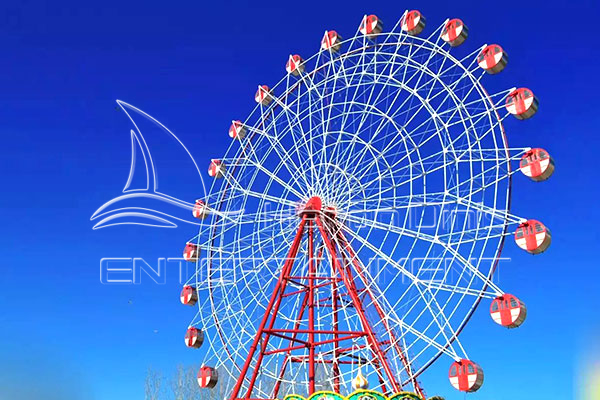 ---
Antique bumper cars for sale — Collision with other cars
Antique bumper cars, also known as dodgems or bumper cars, are classic amusement park attractions that have been enjoyed by people for many decades. They are a type of amusement ride commonly found in theme parks, carnivals, and amusement arcades. As time passed, amusement bumper car developed. In modern life, electric-ground adult bumper car and battery bumper car gradually replace the traditional sky-net electric bumper car, a type of antique bumper car. But there is still a sizable group of people who like ceiling-net electric bumper cars because these dodgems can evoke their memory and look cooler.
In short, whatever dashing car you want, we can provide. As a bumper car manufacturer and supplier with many years of experience, we will try our best to meet your needs even if customization design. Don't wait any more! Contact us. You will never regret choosing Dinis carnival ride manufacturer.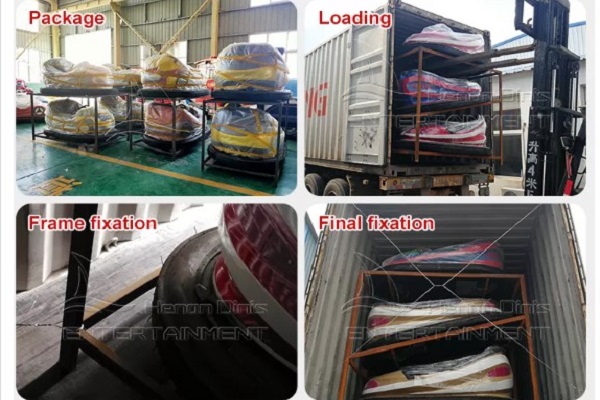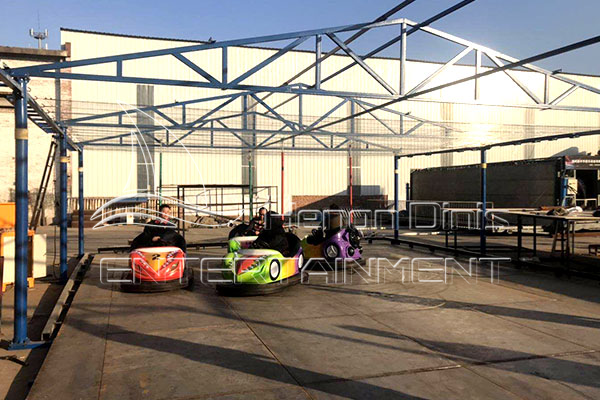 ---
Train sets models
Antique trackless train sets for sale
Antique trackless train rides for sale is suitable for amusement parks, shopping mall, plaza, resorts, streets. It has simulated steam train locomotive, sound of whistle, smoke & chimney as well as audio system. On the body of the train set embed some LED lights. You can control the lights glittering from the driving room.
In the nights, these colorful lights can be fun and eye-catching. Also, there are big lights for lighting, so operation at night is completely acceptable. You can drive the antique train sets to public park and places near the busy shopping center. In the night of the summer days when people come for walking, chatting and shopping, kids will be drawn to this colorful train sets. The audiovisual effects of the train is always a good weapon to attract kids' attention. In peak season like summer days and vacation, it can help you gather a large sum of money in one day without doubt.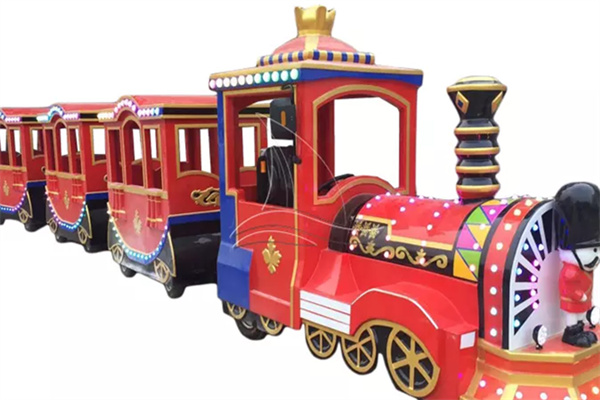 Occasion: shopping mall, resort hotel, residential, commercial, home
Material: FiberGlass, Steel, high quality FRP+steel
Max Capacity:>500kg
Type: Indoor, Outdoor
Allowable Passenger:>10
keyword:Amusement park train
capacity:20/24 seats
Locomotive Size:2.7*1.1*1.95 m
Cabin Size:L1.7* W1.1*1.95m
power:2-3 KW
voltage:60 V
Color: picture or Customized
---
Vintage track train sets for sale
Besides the trackless train sets, we also offer track vintage train rides. The tracked one looks exactly like the real steam antique train and can hold more customers. It is widely used in some resorts, amusement parks and so on. Track train set in large specification, especially with long track, is suitable for resorts. Then the business owner usually make the train thread through the beautiful scenery and connect the most iconic resorts parts together. This is a good strategy to create resorts unique selling point. Then the track train can be viewed as a sightseeing train. In many resorts, vintage track train is one of the most favourable rides. As a nice family ride, customers who come to enjoy the journey can be a group of people. In this context, you can earn money from several of people at one time.
Vintage track train in small specification is also available in Dinis. It is suitable for small business owner or startup amusement rides owner, the track of the train is customized according to your needs. There are three types of track for you to choose from. 8 shape,circular orbit, elliptical orbit. You also get to decide the length of the track. Our antique train ride have both the vintage and cartoon elements, which take full consider of children's affection and preference. We produce kiddie antique train sets and train rides geared for adults. Come and send us inquiries, our staff will send you the inventory of our antique train sets.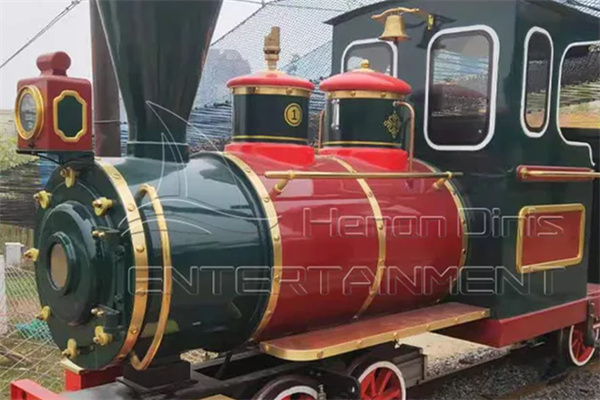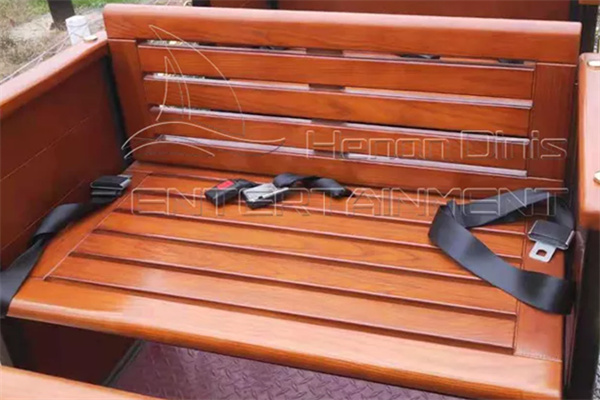 ---
Carousel ride
Antique carousel horse ride for sale
Antique carousel horse ride models after Western vintage style elements for design. You can notice it from the ornate and luxury decorations on the vintage carousel horse. Besides, on the cornice of the carousel sit green gem-like decorations. The floor has wood grain, rendering the carousel looks vintage. Yet the raw material is FRP. The fiberglass amusement rides feature bright colors, with the characteristics of environmental protection, corrosion resistance, good stability and beauty.
There are beautiful floral patterns painted on the center pillar at the same time. This carousel ride is upper-drive mode. The force driven by the upper drive carousel is on the top, that is to say, the motor is on the upper layer, that is, under the roof of the carousel. Usually this part is relatively wide, and the main force is the auxiliary frame, and the track wheels are only auxiliary force. The advantages of the upper drive is that it not easy to be damaged and has a relatively long life of 8-10 years.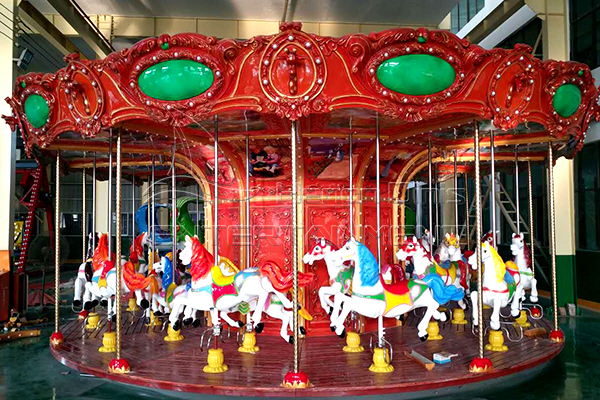 Model Number:c49
Product name:merry go round carousel for sale
Material:seamless steel tube
Area needed:3m*5m
Voltage:380V
Power:2.2kw
Height:3.5m
Capacity:3/6/12/16/24/36 person
Warranty:12Months
Speed:10rpm
Weight:500kg
---
Theme park antique carousel kids games
We also have lower-drive antique carousel rides for sale. The carousel has 24 seats. The horse is designed in war horses. The carousel swings set small LED lights giving out colorful lights. Horse can carry both kids and adults. The carousel can take people weight at 120-150KG. That is 264.5547(lb) to  330.6934(lb).You can customize the pictures on the center pillar. For example, paint the London's scenery on the center pillar. We welcome any demands, please feel free to raise any terms. The carousel is 5.5 meter at height. Also, if you need curtains set on the periphery of the carousel to make it more mysterious, remember to tell us.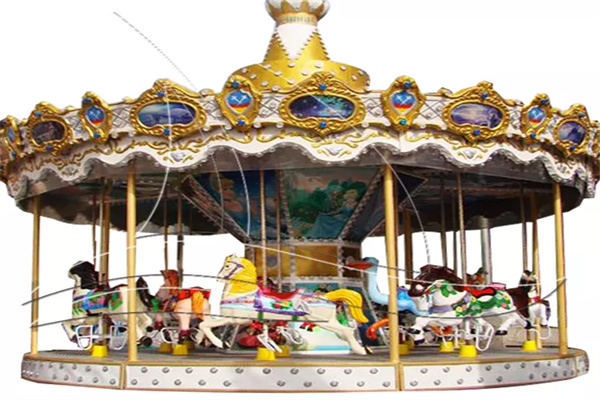 Model Number:CR0621
Occasion:indoor commercial amusement park, trampoline park, sports park, adventure park, etc.
Material:FRP+steel
Color:Optional
Size:Customized Size
Warranty:1Years
Voltage:220V/380V
Technics:Assemblage
After Service:Professional Installation Team
How Do We Design Our Antique Amusement Rides for Sale?
We draw our inspirations from 18th century's locomotive. The investigate and make surveys of vintage train sets. Try to copy the concept of steam age and bring customers travel through time. As for carousel horse ride, we mainly adopt some western patterns. Since the carousel originate from western culture in the 18th century when steam engine was invented and introduced into the prototype of the carousel. The carousel began to develop. Until this day, carousel become a classic entertainment rides. As these two rides all have relative interconnection with past 18th century. We draw lots of inspiration from past time. These days, different aesthetics schools developed. Antique trend has entered into different fields.
In this passage, we talked about hot sale antique amusement rides in Dinis. That is to say, how do we design our antique amusement rides for sale? Hope you find useful information from it. Dinis produce and sell antique rides at wholesale price. Come and buy one of the most popular antique rides from here! We have established many cooperation relationships with international clients. Hopefully, we have chance to establish win-win results in the future. Wait for your consultations!
---