As one of the biggest festivals in Western culture, it is a peak time to operate Christmas related rides, like Christmas carousel in Dinis, Christmas train sets can't be missed. Christmas will be a big carnival at the end of the year. This is the last chance for amusement ride owners to earn wads of money at the end of the year. So we would like to introduce some Christmas theme train rides models for your reference.
Why do you buy a Christmas theme train rides for sale?
In amusement industry, there are several important festivals that has a niche in amusement market. Christmas obviously is one of them. Christmas is an annual festival commemorating the birth of Jesus Christ, observed primarily on December 25 as a religious and cultural celebration among billions of people around the world. A feast central to the Christian liturgical year, it is preceded by the season of Advent or the Nativity Fast and initiates the season of Christmastide, which historically in the West lasts twelve days and culminates on Twelfth Night. Christmas Day is a public holiday in many countries,is celebrated religiously by a majority of Christians, as well as culturally by many non-Christians, and forms an integral part of the holiday season organized around it.
As it lasts for a couple of days and enjoy wide popularity, now more and more non-Christmas countries celebrate it at the mean time. People who come outdoor to find some leisure will increase dramatically. The customer flow can be unprecedented. So, we suggest you pounce on this chance and you are sure to profit fast these days.
Some Christmas train rides model display
Santa train set for sale
As suggested by its name, the Santa Clause in riding on the front of the locomotive and the train is pulled by two cute reindeer. The total color of the train set is red and white, an iconic color combination for Christmas days. The internal side of the Santa train seat has melting snow on it, which create strong adventure vibe with Santa Clause. In regard of track, it is usually in 8 or B shape,circular or oval shape. Also, the length of which can be customized. There are colorful LED lights shining when you turn on the lighting system. You can download Christmas music and play it when operate. The track can be painted into various colors.Contact us and describe your needs.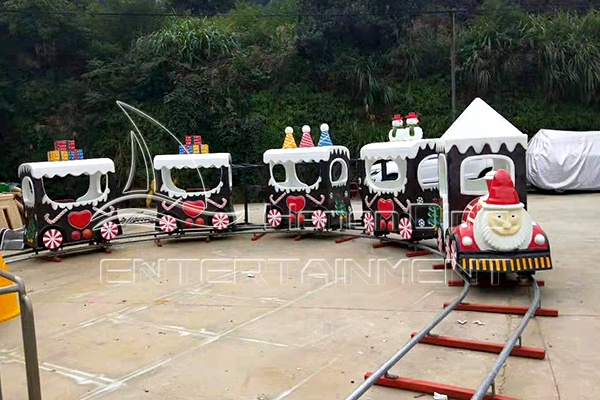 Christmas sightseeing train ride
Christmas sightseeing train ride is a moveable train ride. You can place them in amusement park, theme park, shopping mall, fairground, resort and so on. The Christmas sightseeing train ride has classic vintage locomotive. The color is customizable. We can design it in classic Christmas color to make it more festival oriented. For kids it is rather attractive to ride the sightseeing train ride when they bump into the ride in shopping mall or theme park.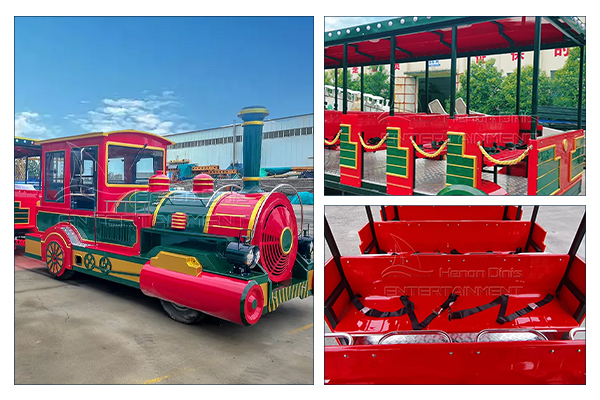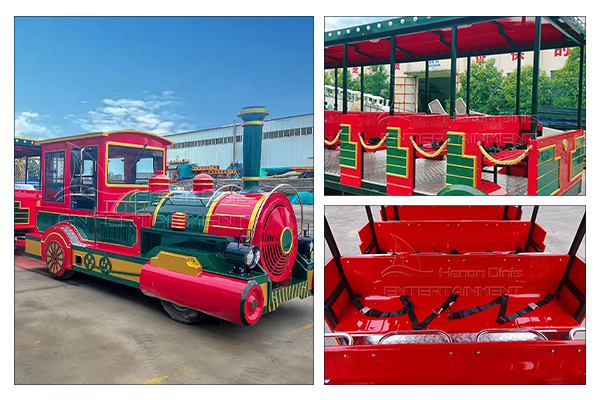 Features of the Christmas theme train ride
Our Christmas train set can play music and you can control it to play or pause.
LED lights can shine rhythmically. It is so eye-caching that it can easily attract children's attention when it shine to the accompaniment of the music.
The speed is controllable. If you feel it is too fast,you can control it from the control box.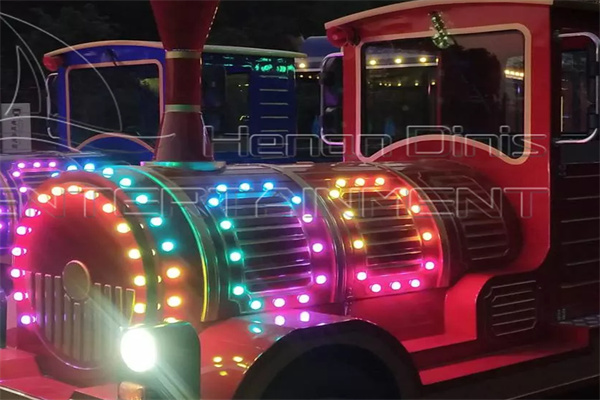 In this passage, we introduced why do you buy a Christmas theme train rides for sale? Some Christmas train rides model display. Features of the Christmas theme train ride. Hope you find it useful. If you have any questions, feel free to contact us. We are more than happy to help.