Roundabout carousel is one of the most common rides you could see from the fairground. It is popular among different groups and people of different age for it is safety and dreamy to enjoy. Generally speaking, you could find its existence in lots of fairgrounds. It kind of becoming a embodiment of the entertainment industry. So it is of great importance to have a quality roundabout carousel in your fairground.
The roundabout carousel is adaptable to various operation venue. It could range from residential, shopping mall, kids zone, zoo, resort, hotel, fairground, kids hospital, airport, adventure park, theme park, city park, daycare, city center, kindergarten, commercial, playhouse, educational zone to home. That means a roundabout carousel horse ride has overrun a great number of the entertainment venue and is widely accepted by people.
 Wide group acceptance
 Kids
First, the kids group is one of the most important group that love roundabout carousel. To cater for their needs, we have designed various of kids-targeted roundabout carousel for sale.
cartoon carousel for sale
The cartoon carousel for sale features in cute cartoon characters that kids are familiar with. Like princess and prince images and cute animals that kids can't resist. The total design of carousel horse is compatible to kids' aesthetics. Some shape like flowers and mushroom as the center pillar and ceiling with cute bees attached to the pole. Some shape like girlish sun umbrella with all kinds of cute animals attached on the poles. The color of which could be customized to your satisfaction.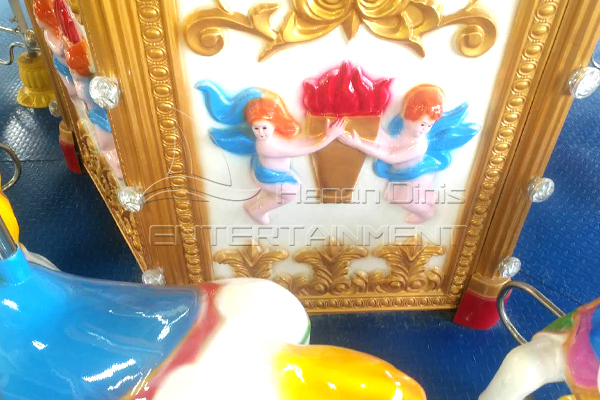 The new style carousel horse for sale
The new style carousel is a type of roundabout that apply various cute animals for horse figures. The horse figures of which are separated from the usual galloping horse and adopt cartoon animals instead. Also, you could see swans shaped carriages. It can accommodate 2-3 person at the same time so that kids could share this ride with their friends and parents. The center pillar mounted with 4 mirrors on every side. On the outside of the carousel, there are several arrays of LED lights giving out colorful and rhymical lights. As one of the lower-drive carousel, it is a quality carousel with reasonable price.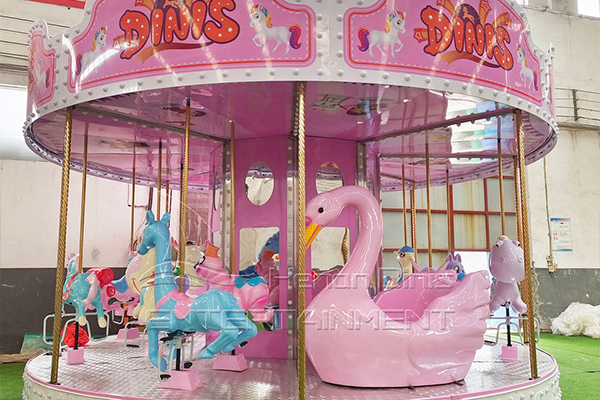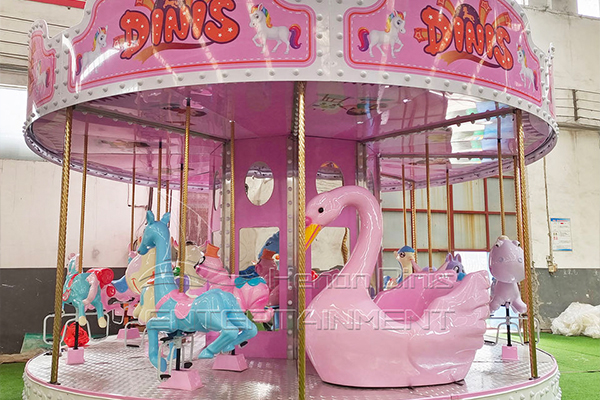 Occasion:

indoor commercial amusement park, trampoline park, sports park, adventure park, kids café, shopping mall, resort hotel,

Place of Origin:

Henan, China

Brand Name:

Dini

Type:

Carousel, Indoor, Outdoor

Material:

Steel, FiberGlass, seamless steel tube

Allowable Passenger:

>10

Inflatable:

NO

Max Capacity:

>500kg

Product name:

Adult and kids game park rides amusement carousel for sale

Area needed:

3m*5m

Voltage:

380V

Power:

2.2kw

Height:

3.5m

Capacity:

3/6/12/16/24/36 person

Warranty:

12 Months

Weight:

500kg


Adults
The roundabout carousel is not constrained to kids' enjoyment. Adults are also attracted to it. We have some beautiful carousel designed for adults at the same time. They are suitable for couples to go on a date and take some pictures. For example, some carousel rides set at the seashore are welcomed by wedding shotting. For some carousel owner use it as the background for wedding shooting, we could customize it in white so as to in keeping with the wedding' s theme.
Luxury carousel for sale
Luxury carousels are often embellished with sophisticated decorations that will be loved by either girls or boys. We are strict with the cornice and the horse' s designs. The horses are dashing and have flowers and all the real-life horses have. Every sinew  is vivid and the color are corrosion-resisted and bright. Luxury carousel can always catch everyone's eyes on account of the elegant and prepossessing appearance.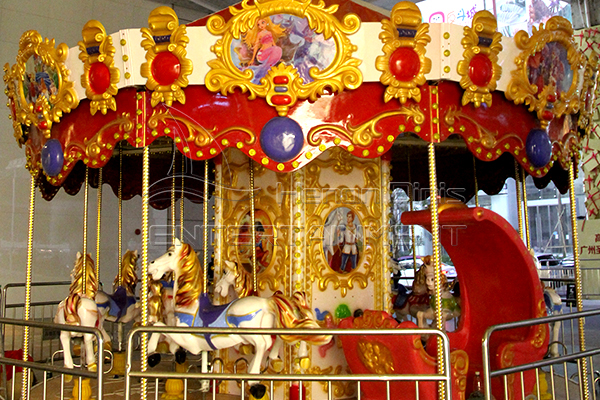 Brand Name:

Dinis

Occasion:

resort hotel, School, commercial, shopping mall, residential

Material:

FiberGlass, Steel, Fiberglass + Steel

Max Capacity:

>500kg

Type:

Indoor, Outdoor

Allowable Passenger:

>10

Product name:

Carousel Rides

Usage:

Parks

Color:

Customized Color

Warranty:

12 Months

Capacity:

16P

Power:

3kw

Voltage:

220/380V

Certificate:

CE Certificate
These days, theme park is prosperous in entertainment industry. Adults are the main consumer group as they are financially free and attach more importance for off-work leisure. So the theme park carousel sells well. Young men would pay for this rides to take beautiful pictures and have a taste of past childhood. Theme park carousel usually have their own brand printed on the roundabout carousel. We could print your brand name and brandmark on the horse and the cornice so as to advertise for your name.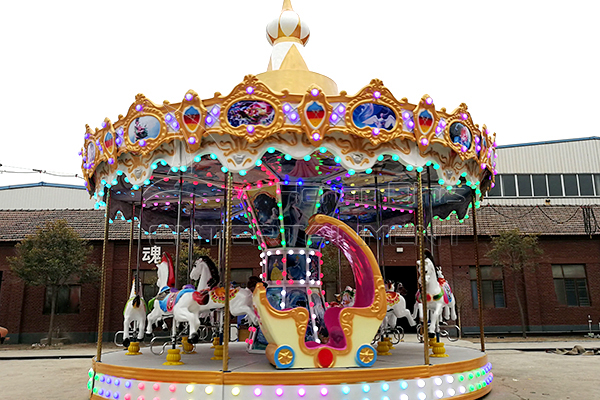 Brand Name:

Dinis

Occasion:

shopping mall, resort hotel, commercial

Material:

FiberGlass, Steel, FRP+Steel

Max Capacity:

>500kg

Type:

Indoor, Outdoor

Allowable Passenger:

>10

Area needed:

6 meter

Voltage:

380V

Power:

4kw

Height:

6 m

Capacity:

3/6/12/16/24/36 person

Warranty:

12 Months

Speed:

Adjustable

Weight:

200kg
In this passage we talked about the reason why you should buy a roundabout carousel. Hope you will find enlightened from it. If you have any other questions, please feel free to get in touch with us. Hope we could receive your inquiries. As at the end of the every year, we have promotion event, you will get some preference if you put your order these days. Please clasp at the chance and make suitable choice!