In these days of our big promotion, we have managed to make a deal with Turkey customers. They have bought European carousel and Large Ferris wheel from Dinis. Here we share our cooperation with you. Hope you feel enlightened from the deals.
 European carousel ride in Dinis
The Turkey customers wish to have a carousel set in the amusement park in the center of the park. They plan to place a classic ornate carousel in the amusement park. Accordingly, our staff send a pdf. Material of our product lists and inventory for clients for reference. At last, they decide to purchase a European style upper drive carousel for amusement park.
It is a carousel ride that has beautiful green and yellow combination. On the cornice situated lions face and reflective panels. There are also some sophisticate floral patterns and reflective panels decorate the center pillar . As you can see, it is very attractive when it stands in bright sunshine. The trees' shadow can reflect on the panels, which make the carousel as  adorable and refreshing as a beautiful pictures. The Turkey client is quite satisfying with the design concept. Its beauty can be better magnified in their amusement park and attract kids and adults at the same time,we believe.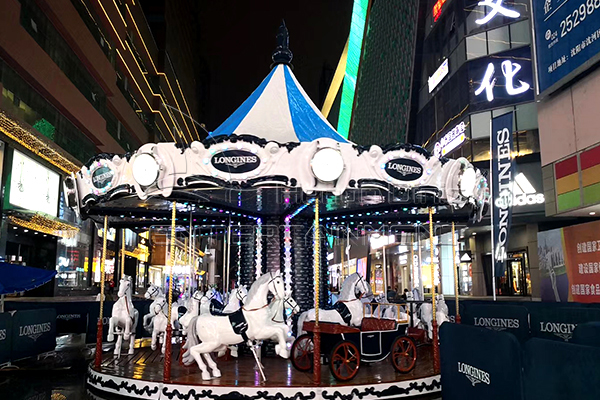 Occasion:home, resort hotel, School, shopping mall, park, scenic spot
Material:FiberGlass, Steel
Max Capacity:100-500kg
Type:Indoor, Outdoor
Allowable Passenger:>10
Color:Picture Shows
Capacity:12/16/24/36 Person
Age Group:Kids & Adult
Size:5.5-8mDiameter
Voltage:220V/380V
Power:4kw
Main material:FRP+Steel
Warranty:12months
The European carousel ride is classic in vibe and ornate in decoration. It is easy to attract people's eyes at the sight of it. Also, the upper drive carousel enjoy long lifespan,compared with lower drive ones. Much money as it is spent on it, it will be a good helper in garnering our clients more profits. It performs well in the competitive high end market. Their brand name will also be presented on the carousel and the horse body. This is a special signatures for themselves.
Large Ferris wheel for sale
Ferris wheel enjoy the compliment of the eye of the park. A eye-catching Ferris wheel will never fail to profit. On the basis of Turkey
customers' operation parameter. They pick a 20 meter high Ferris wheel for their park. There are 12 cabins on it and can accommodate as many as 48 passengers. It covers 17*14m and the turning diameter is at 17.98m. In nights, the lights on  the Ferris wheel can give out rhythmical shining, which will be a beautiful sight be behold from every angles. As Turkey customers' amusement park situated in center of the park,we believe it would be icon for years to come.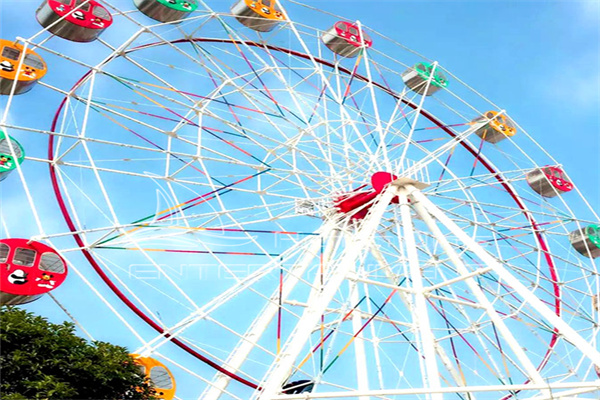 Occasion:shopping mall, resort hotel, residential, commercial, home
Material:Steel, FRP , steel, stainless steel
Max Capacity:100-500kg
Type:Outdoor
Allowable Passenger:>10
Cabins:12
Capacity:48 seats
Color:Customized
Voltage:380V
Power:5kw
Speed:0.22 r/min
In this passage, we introduce you our cooperation with Turkey clients. Our dealing is quite swift and peaceful. Hope you find useful information from it. We are looking forward to reaching a win-win results with you.