Carousel rides also known as merry go round, galloper and roundabout in amusement ride industry. As one of the most classic rides in fairground. You can see their existence in park, fair, carnivals and other entertainment venues. For indoor carousel ride owners, it is one of the indispensable rides. In this passage we will shed light on some problems you might be interested in.
How many seats do your indoor carousel ride have?
The carousel seats vary from products to products. Generally speaking, we divide the carousel ride we produce into three categories. Small, medium and large carousel ride for sale in Dinis. Small ones usually have 3-6 seats. Medium ones have 12-16 seats. The large ones have as much as 24-36 seats. Double-decker carousel can have more seats. For your reference, the seat can be customized to your needs. Or you can have carriages replaced the horse on the pole. The indoor carousel have height limitation so when you plan to set one in indoor places, it might be difficult. But we can remove the gourd to cut down some height so as to fit into indoor places.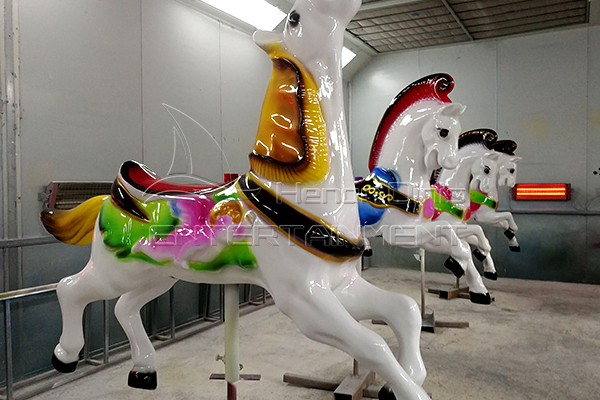 Customizable parts for indoor carousel ride
Speaking of customization, customers might wonder which parts exactly can receive customization.
Material: The floor of the carousel. You can choose from the antiseptic wood and aluminum checkered plate.
Seats: The horse on the pole. You can choose the horse figure models we have to replace the horse on your carousel ride. If you have some preferred figures on your mind yet we don't have relative models. We can remodel for you. And we are afraid that surcharge for modelling might need you to pay.
The railings: Some clients wish to have a ring of railings and stairs attached to their carousel ride. We have do it for you.
The curtains: The customers can choose to have or remove the curtains that hang under the periphery of the ceiling. Of course, you can determine the pattern and color of the curtains at the same time.
The theme: The theme of the carousel ride can customize to your needs. Tell us about your concept, we have professional groups for you to design and plan the layout.
The color and the floral patterns: When you feel not satisfied with the decorations on the carousel. Please send our your opinions, we will rearrange the decorations for you. For example, if you don' t like the mirrors on the center pillar. We can remove it.
Voltage: As far as we know, there are some countries voltage as different from our country. Yet don't worry. Please tell us your voltage standard, we will customize our products into usable one in your country.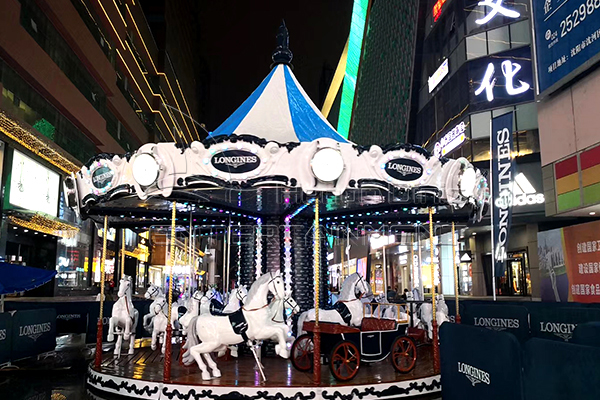 Is our indoor carousel ride reliable and up to standard of your country?
We have CE certificates that many countries in the world accept. Up to now, we have reached cooperations with lots of clients from different continent and countries. Please don't worry about this.
 Can we get discounts if we buy from your company?
Of course, if you buy at the big promotion season in middle of the year, in around July and August and the December to January, the time when we offer discounts. You can get our rides with relative low prices. Besides, if you have bought rides from us before, we also will supply you some discounts. We are happy to cooperate with return customers.
 What support services will l get after buying indoor merry go rounds from Dinis?
Dinis has a dynamic after-sales service portfolio that aim to enhance its customers'' 'experiences and loyalty.
With over 2 decades of operation in the industry, the manufacturer will provide you with these after-sales services after purchasing your merry go round rides:
Warranties and guarantee
Effective user training
24/7 online support
lnstallation guides
Referrals for spare parts, repairs and realignments
Hope these aforementioned information can solve some of your questions. Let us know if you have other questions if you are interested in our products. Please send us inquiries we will offer you a timely response and solution to your questions. Hope to hear from you!