Why the Coin Operated Horse Ride for Sale is a Reasonable Investment for You?
Contents:
The coin operated carousel horse ride for sale is a kind of new amusement park ride in the carousel industry. It belongs to the kiddie rides. Generally, it can only hold 1-3 children at one time. When people insert one coin in it, the equipment will start to operate. On the ride, children will enjoy the great entertainment way along with the beautiful music. Besides, the beautiful appearance and exquisite design of coin operated ride on carousels for sale are appealing for children. Due to its safety, parents are also willing to take their kids on the coin operated ride on carousel for sale. Currently, many investors are willing to invest in the coin operated merry go round rides to make profits.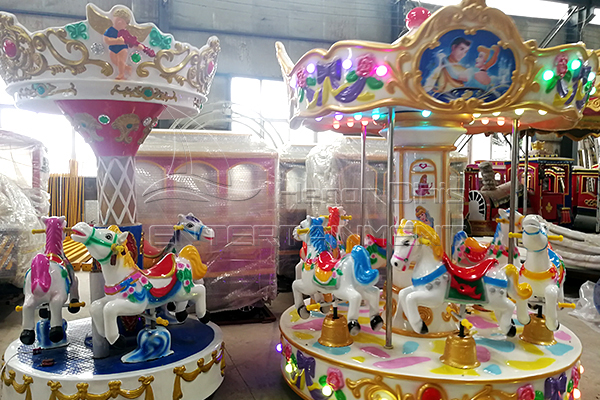 Where can you find coin operated horse rides?
The coin operated horse for sale rides are very common for us.
You can find coin operated mechanical horse for sale in kindergartens, playgrounds and fairgrounds, amusement parks, theme parks, shopping malls, indoor recreational center and other indoor and outdoor places.
Due to the small size, there are even coin operated carousel rides in small stores and drug stores, etc. Thus, parents can take their kids on the coin operated carousel horse at any time.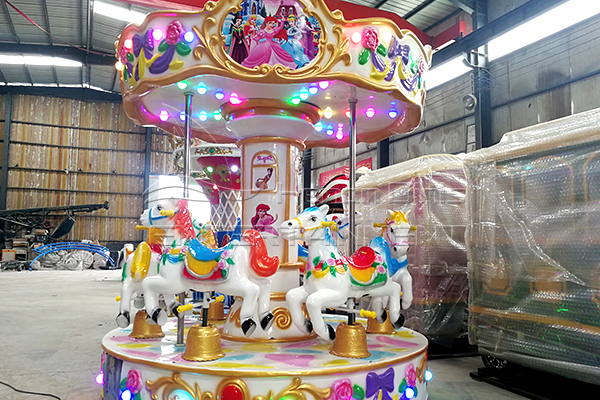 Why the coin operated pony ride for sale is a reasonable investment for you?
The coin operated carousel kiddie rides are classic amusement kiddie rides. It enjoys great popularity in the world and has broad customer group. Thus, the purchase of coin operated horse for sale will be a profitable investment for you. Due to the following aspects, the coin operated pony rides are popular among various kinds of people.
Compared with other exciting amusement rides,
flying chair
,
ferris wheels
, etc. the coin operated rides merry go round equipment is a kind of safe ride. Especially for children, the exciting or even thrilling experience may not be suitable for them. Comparatively, what they can enjoy is the sense of ease and pleasure. And the safety performance can also persuade parents to bring their children to take the equipment. Besides, this coin operated horse ride can enhance the coordination ability of the children's hands and eyes. And players can get fresh experience from this entertainment equipment.
The coin operated horse ride for sale is always mini equipment for children. Thus, you can easily find it in amusement parks, playgrounds, fairgrounds, theme parks and other outdoor places, but also in parks, squares, shopping malls, stores and even backyards. Thus, as long as you have a small space, you can buy a coin operated horse ride for sale for operation.
Due to the small size and low height, the coin operated kiddie ride merry go round is a kind of portable entertainment ride. It is easy to move from one place to another place. Thus, the coin carousel machine game is suitable for carnivals and funfairs. If you don't have a fixed place to operate the coin operated toys, the coin operated carousel carnival ride is a good selection for you.
The structure and components of coin operated children's rides for sale are comparatively easy. Thus, coin operated merry go round rides are easy to install and maintain. Therefore, you could save a great number of maintenance fees in the business operation and management.
Compared with
other large entertainment equipment
, the coin operated carousel machines for sale are relatively at low prices. Therefore, if you have limited budgets, the coin operated animal carousel ride is the primary choice.
From the aspects, you can find that the purchase of children's carousel coin operated rides is a reasonable choice for you.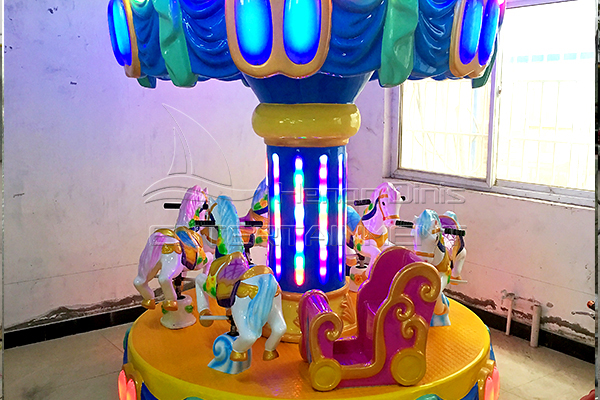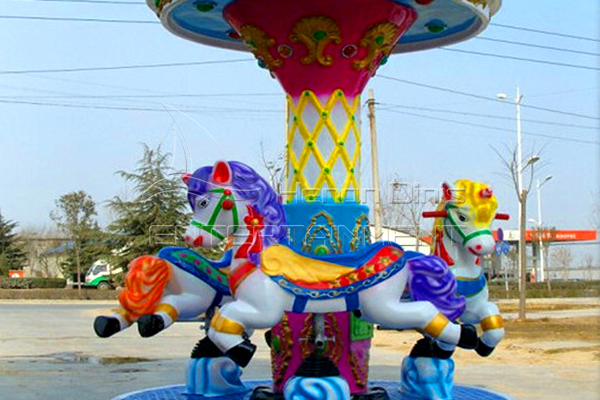 Dinis – coin operated kiddie carousel ride manufacturer
Dinis Amusement Machinery Co., Ltd. is a leading and professional coin operated kiddie horse ride supplier in China. The company has devoted to producing and developing coin operated amusement merry go round rides for sale for the customers at home and abroad. Dinis adopts high-quality reinforced plastic materials in the production. The material has great environmental protection, safety, corrosion resistance, stability and other good properties. Thus, the high-quality coin operated ride on animals rides have won the praise of customers by virtue of reliable quality. Dinis has exported coin operated horse racing games to various countries and regions.
Besides, there are various models of coin operated amusement machines for sale in Dinis plant. The coin operated animal rides for sale are at different sizes. If you have the drawings for the coin operated toys for sale products, the company can also customize the products to meet your requirements. In accordance with the "customer first" theory, Dinis devotes itself to providing high-quality kids coin operated small game machines. Moreover, in order to reach the mutual benefit, the company sells coin operated rocking horse rides at reasonable prices. As a professional coin operated children rides supplier, Dinis is willing to provide recommendations and suggestions. If you have any need, just contact Dinis company now!
Dinis hot sale 3 seats coin operated carousel kiddie rides for sale
In Dinis plant, the most popular coin operated amusement ride is 3-horse mechanical horse for sale. It is a kind of fun fair equipment especially for children. The children's coin operated rides have cute images, exquisite design and colorful lights. In the company, there are many themes and types of kiddie carousel rides, such as fairy-tale type carousel for sale, ocean theme carousel horse coin operated rides, etc. And the forms of seats can be dolphins, bees, birds and marine animals. These entertainment rides are quite attractive and appealing for children. On the ride, players will feel like playing in the fairy tale world.
If you have any interest to buy coin operated horse rides, contact Dinis to get the product quote.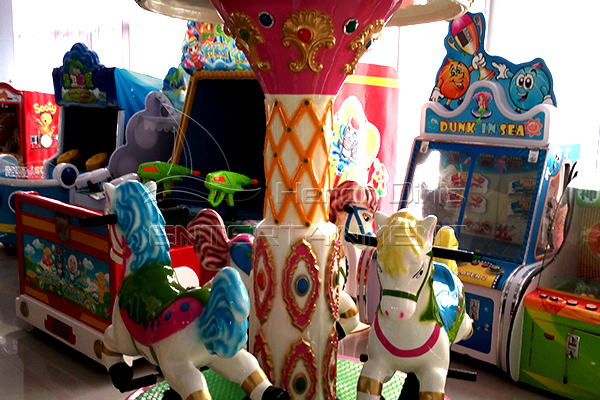 Coin operated kiddie ride carousel parts
In the structure, the coin operated horse ride contains three parts, the top part, middle part and bottom part. In the equipment, there is a central column throughout the three parts.
The top part consists of umbrella frame, umbrella frame eaves, umbrella frame connecting rod and umbrella cloth. Outside the umbrella, it is the outer fiberglass structure. Besides, there is the lighting system.
In the middle part, the peripheral support bar connects the middle horse pole
The middle part of the device connects with the glass fiber reinforced plastic pinch, the peripheral support bar and the middle horse pole at the center, and the horse pole penetrates through the horse body and the horse body and the lower horse cover.
The bottom part includes motor, large plate, rail, rail connecting rod, traveling wheel and peripheral decoration. The motor drives the rotating action of the equipment.
Do you want to have coin operated horse for sale? If you have any problem, contact Dinis now! We will reply you as soon as possible.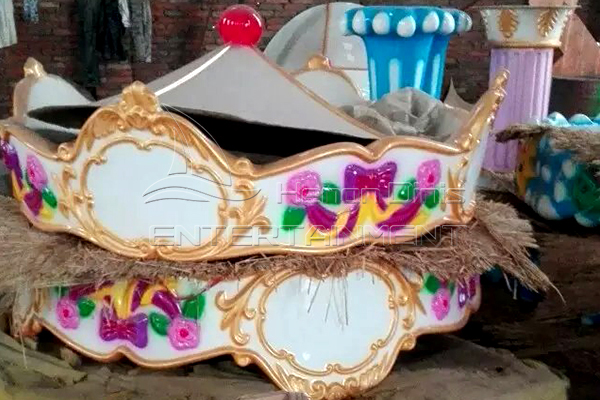 Characteristics of Dinis coin operated kiddie horse rides for sale
The coin operated merry go round for sale ride is the primary choice for investors. It has the following characteristics:
High-quality reinforced plastic materials and advanced craftsmanship
Automotive paint
Complete configuration and structure
Simple operation and management
High reliability and low prices
Easy installation and maintenance
Customization services
Cute appearance, exquisite design and colorful lights, as well as MP3 player
Thus, the coin operated horse ride for sale manufactured in Dinis plant is worthy of consideration in the purchase process.